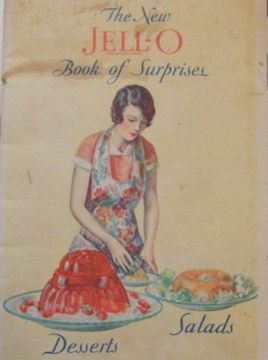 Book of Surprises?? They haven't met me yet!!
If I were a 1950's housewife I would be a loser. When a new neighbor moved into our perfect suburban 1950's neighborhood and all of the other pearl-clad, dress-wearing women walked over in their high heels to greet the new neighbor, with Jell-O molds as their offering of friendship, I would be back at home doing Jell-O shots instead...but they would be more alcohol than they would be Jell-O, because apparently I can't figure out how to make it.
Only I can mess up making Jell-O. I mean, who messes up Jell-O?! Me. That's right, I am admitting it. I've heard the first step to knowing you have a problem is admitting it, so...My name is Melissa, and I can't even make Jell-O. I attempted to make some for Baby J for a tot school activity and it came out like a watery, slimey cesspool. Thank goodness he's too young to know how to judge me yet ;)
Here's the thing, I can cook. I make some pretty delicious dinners, if I do say so myself. My family is of Italian descent, and cooking has been passed down from generation-to-generation. Sauce (or gravy as my mom calls it) and meatballs....sure I can do that! I will just stand at the stove and throw a bunch of stuff into the mix until it looks and tastes great! If I have to actually follow directions/instructions/recipes, that's it, I'm screwed.
Anyway, without further adieu, here is my masterpiece...green water with a few semi gelatinous chunks. Nailed it! Get your requests in now, everyone...I'm going into the Jell-O mold business next week!